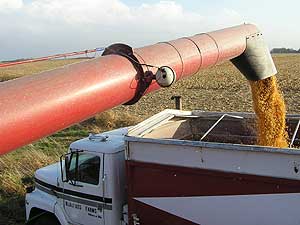 I just recently read about Seth Klarman, Portfolio Manager of the $5.4 billion investment partnership The Baupost Group, and noted value investor.
Since inception in 1982, the partnership has returned roughly 20% annually, an excellent long-term record. Like most value investors, Mr. Klarman has the discipline to sit on the sidelines when he can't find good value. He also has the courage to dive aggressively in, when he finds what he perceives to be great value.
Mr Klarman also runs a "focused" fund, meaning that he'll have a lot of concentration in a relatively limited number of stocks. What's he buying these days? What he's buying is into the distressed media sector - Rupert Murdock's News Corp. in particular. At present, Mr. Klarman has an
almost unbelievable 55%
of the fund's value in the class A and regular stock (NWS and NWS-A).
This is something that I also talk about in
my book
, which I call the ability to "load up the truck" when a very good investment is available at a discount price, in order to produce market-beating performance. Mr. Klarman isn't the only one to have ever benefited their portfolio's returns by doing the same: superinvestor Warren Buffett once said that he had well over 50% of his portfolio in one undervalued stock, and slept like a baby every night.
Mind you, if you do load up on a single stock like that, you better be very confident that it has minimal downside, and very significant upside. And it's almost always easiest to find this type of situation in so-called "value stocks", which is another of the reasons that I have learned to prefer being a "value investor". Stocks with mind-bending PE ratios often lead to mind-bending hair-pulling events - value stocks let me keep my receding hairline relatively intact.
While I can't speak to the relative value of NWS, I think it's noteworthy that a well-known value investor has taken such a large position.
JW
The Confused Capitalist