Well, apparently
unlike the US housing market
, even after a strong five years of house price gains, housing in Canada remains undervalued.
According to recent research by Merrill Lynch economist David Wolf, the Canadian housing market is, on average, undervalued by 10-20%. Mr. Wolf ran his model based on average incomes and the cost of debt, and in only one (Victoria) of the 15 major markets measured, was the housing over-priced - and even then it was just a modest 4%.
To check his model accuracy, he ran current prices and incomes in the major US cities (yes, most were over-priced, according to his model), and also ran it against the frothy 1990 Canadian markets (again, his model suggested they were then, in fact, over-priced).
One of the more surprising findings was that even in oil-rich Alberta - after years of very strong gains - the major cities of Calgary and Edmonton were amongst the most-undervalued cities in Canada.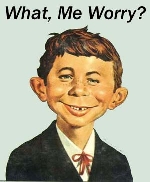 According to Mr. Wolf, Canadian prices can rise by an average of over 4% annually for the next four years before they'll achieve full value.
In the meantime, those worrying about a Canadian housing bubble can relax ... relax ... relax ... relax ...
JW
The Confused Capitalist
Support this blog and our advertisers: check out the advertised listings.